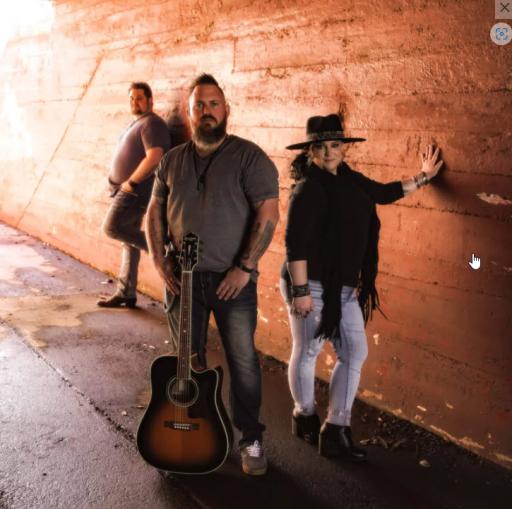 About Small Town Sunday
It's a season of change for Small Town Sunday.
The award-winning, country vocal band once known as Dixie Still and then better known as Dixie Revival currently find themselves living in a brand-new time with a brand-new purpose…sort of. Because while they find themselves pivoting towards the country music genre via a mix of thought-provoking and spiritual songs with a backbeat, some things will never change.
They will always want to tell the good news of Jesus Christ.
Certainly, it's this good news that the powerhouse trio made up of Matt Branch, Holly Branch and Stephen Robertson have long clung onto in recent years, as each and every one of their lives have been touched by tragedy. From suicides to heart attacks and far too many losses for a heart to take, Small Town Sunday has experienced a series of painful moments that could cause anyone to emotionally cave in. But thankfully, the Horizon Country Gospel Group of the Year have found a spiritual safety net within the music they create.
"We want to tell the story of how God has restored us," Holly says quietly. "And we want to do it through our music."
The story of Small Town Sunday began in North Carolina when Matt met Holly and Holly met Stephen, and on a summer night back in 2012, the three joined voices at Son Sound Studios on the Brad Paisley hit "Whiskey Lullaby."
And their whole world changed.
"When we hit that chorus, people said it sounded like magic," remembers Stephen, who currently resides in Mt. Airy, North Carolina. "I know that's cliché, but man, I had goosebumps. It was a God thing right from the start." 
"You're never going to find a happier place in your life than when you're doing exactly what you've been called to do by the one that does the ultimate calling," says Matt about that fateful night. "From that point on, we knew that we wanted to make music that let people know that Jesus wants them, even when they're in the middle of whatever it is they're going through. I think for me, that's just been the drive behind the music."
Certainly, that drive has had more twists and turns as of late, as the "Beautiful Messes" hitmakers currently finds themselves merging into the country music lane, looking to provide a new view to old and new fans alike. 
"Country music has always had a way of identifying with things that are real," explains Holly before her husband and Small Town Sunday bandmate chimes in. 
"Most of the folks that listen to country music have a moral compass, whether or not they believe in Christ or not," explains Matt, who still calls the small town of Bessemer City, North Carolina home along with a total of 21 tattoos emblazoned across his body. "So, any music that we can put out that pushes a message of positivity towards that moral compass is a good thing if you ask me."
And make no mistake – that message is all-encompassing.
"We're talking about loving the transgender community," continues Matt.   We're talking about loving the anti-gun community. We're talking about loving the gay community. We're talking about loving the black community. We're talking about an all-encompassing positive message."
"Our songs aren't about muddy Chevrolets and bonfires and drinking and hanging out and dancing with a girl, you know?" adds Stephen enthusiastically. "It's letting you know that you are not written off because you circle up around a bonfire and you drink a Yeti full of cold beers. Our message is that you are who you are and your loved exactly how you are. And when you fall down and there's nothing you feel like you can lean on - there's no more beer, the ice is melted, the lights are dimmed, the trucks are gone – there is somebody you can lean on."
And it is the eternal spirit of that somebody that can be heard in the backbeat of a myriad of Small Town Sunday's new slew of songs such as the Rascal Flatts-esque "Chasing You", ___ and the powerful ballad "Until You Love Jesus," which was written shortly after an unimaginable season of loss for the group members.   
"No matter what you're going through, everybody's searching for something," concludes Holly. "We are just hoping that what they are searching for, they can find in our music."
"Anybody can sing campfire, truck bed, girls leaving songs," adds Stephen.  "We just want to make sure you have a relationship that's going to last you for the rest of your life and that's going to lead you to the eternal good life.  That's our message."
stats