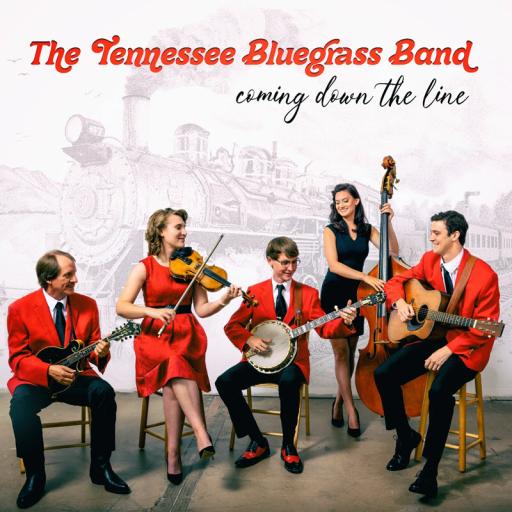 About Tennessee Bluegrass Band
NASHVILLE, Tn. (September 29, 2023) – You can hear the whistle blowing and smell the thick black smoke! The Tennessee Bluegrass Band and Billy Blue Records are excited to release the very first single featuring the newest members of the popular East Tennessee-based band.
"Coming Down The Line", inspired and co-written by the band's new lead singer, Geary Allen, paints the picture of a midnight train getting closer and closer as it rolls into town carrying the singer's one true love back to his arms as he anxiously awaits her return.
      
In addition to showcasing Allen's first-ever-recorded vocals for the band, the new single features the exciting twin fiddles of founding band members Aynsley Porchak and Tim Laughlin, and then, as the song picks up steam, the distinctive style of Lincoln Hensley's five-string Krako Banjo drives the track home. As his love gets closer, you can feel and hear the train slowing down as she's pulling into the station for her arrival back home!
     
Originally from Canterbury, England, Geary grew up playing music with his two brothers, sister, and dad in a family band. His love for and influence of traditional country and bluegrass music is reflected in his convincing vocals and perfect melody he created for this original tune. Geary is not only a strong stylist with identifiable vocals, but has a special gift of writing traditional songs with memorable melodies.
   
"The first time I heard the melody of 'Coming Down The Line', it stuck in my head – like a hit song should", says Jerry Salley, Billy Blue Record's Creative Director. Salley continues, "Geary was kind enough to let me dig in and contribute some additional ideas for the lyrics of this new single. I personally believe he has a tremendous future with The Tennessee Bluegrass Band as one of the best upcoming artist/writers in our genre."
    
Along with Geary's fresh new voice, the band also now features a young, new bass player and vocalist, Anissa Burnett, who has a strikingly beautiful voice that blends perfectly with Geary and the overall style of the band. Hailing from Boone, North Carolina, Anissa also grew up playing bluegrass music in a family band, The Burnett Sisters. "I am very excited about the addition of both of these young, talented bluegrass artists to the band," Salley adds.
   
While there have been countless "train" songs written and recorded through the years, this particular recording, with their own unique sound and arrangement, sets it apart from all the others and makes it a song that is sure to become a "classic" from The Tennessee Bluegrass Band as they continue to establish themselves as one of the most popular new bluegrass bands in the industry.
Geary Allen and Jerry Salley
Billy Blue Music (BMI) /Very Jerry Music (SESAC) ISRC: US3U82300322
Producer - Jerry Salley
Lead vocals, acoustic guitar - Geary Allen
Banjo - Lincoln Hensley
Fiddle, background vocals - Aynsley Porchak
Mandolin, background vocals - Tim Laughlin
Bass - Anissa Burnett
stats