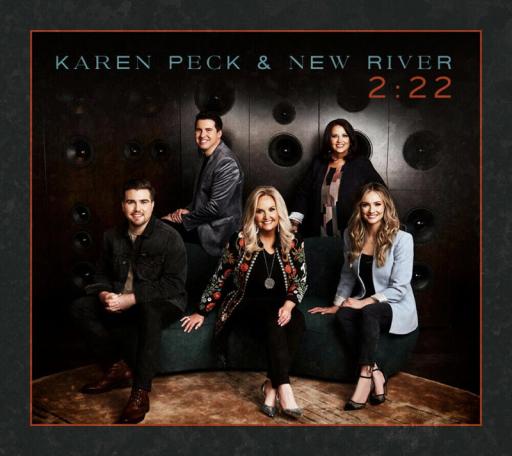 About Karen Peck and New River
Karen Peck and New River is a 2-time GMA Dove Award winner and 3-time Grammy Award Nominated Southern Gospel Group. Karen's flawless, delightful soprano voice has made its way into the hearts of Gospel Music lovers across the country and garnered an unprecedented 11 Favorite Soprano Fan Awards. Karen, Susan and Jeff have also received many awards from other magazine publications and Internet publications. Over the past two years, New River has had five consecutive #1 songs in Southern Gospel Music.
The youngest of three daughters, Karen was exposed to the traditional sounds of Gospel Music at a very early age. Her parents often took Karen and her sisters, Susan and Sandra, to the all-night sings in Atlanta, and these concerts left an indelible mark on the youngsters who made a pact that someday they would share a musical ministry of their own.
One of the groups often featured at the Atlanta concerts was The Lefevres, who later became known as The Nelons. It would be a mild understatement to say that Karen had aspirations of singing with this talented family. In fact, that aspiration became her greatest desire, and in 1981, this dream became a reality when Karen was invited to travel with her favorite group. She remained with The Nelons for 10 years, gaining the respect of industry peers and fans alike with her exceptional vocal ability and caring personality.
Finally in 1991, the realization of yet another dream came to pass when Karen and her sister, Susan, with Karen's husband Rickey, organized the musical entourage of Karen Peck and New River. Today the New River team consists vocally of Karen, Susan, and Jeff Hawes. Additionally, Karen's husband, Rickey, serves as the group's road manager and sound technician. Susan's husband, David, is the founder and owner of the Jackson Steel Guitar Company. Dawn Hughes has traveled with the group since year 2000 as Karen Peck and New River's assistant making New River a complete family affair.
With appearances on such prestigious stages as The Grand Ole Opry, The Gaither Homecoming concerts, Opryland Theme Park, Dollywood and Six Flags Over Georgia, New River has firmly established their place at the forefront of Southern Gospel Music. Over the past decade, they have been featured on many television networks, with appearances on TBN's Praise The Lord, the Grand Ole Opry Live and the popular Gaither Gospel video Series. The group has enjoyed many honors and accolades. They have received numerous industry and fan award nominations. Their album "Journey of Joy" received a Grammy nomination for 2008. "Journey of Joy" was also nominated for three Dove Awards. This album has three consecutive #1 songs including "Hey", "Last Night", and "Whispered Prayers". They have consistently received radio airplay at stations nationwide. Hit releases have flowed their way in bunches, and they have enjoyed many Number One songs. A few of their other popular hits include: "Hold Me While I Cry", "Just One Touch", "I Wanna Know", "God Likes To Work", "Daddy's Home", "When Jesus Passes By", "God Still Answers Prayer", and "Christian In The House". Additionally, the group's Number One hit, "Four Days Late", was also named Song of the Year in 2001 and continues to be a favorite among audiences. In fact, "Four Days Late" was chosen by the Singing News as Song of the Decade (2010) as well as "I Wanna Know How It Feels," being selected as #10 Song of the Decade.
No doubt, that same message of hope and encouragement continues to flow through the lips and lives of Karen Peck & New River with their Daywind release, Ephesians One, released in September 2008. The album, featuring #1 song "I Want To Thank You", was nominated for a Grammy in 2009. "Each time we go into the studio to record a new album," Karen shares, "we're at a different place in our walk with Christ than the last time we prepared for a recording. Therefore, obviously, each recording pulls at a different heartstring, yet the message of hope is always present. That's what life in Christ is all about. As a result of various circumstances each of us have faced over the past years, we're at a point in our lives where we realize that anything we achieve or accomplish is all because of Christ. It is an honor to serve Him."
Their 2009 release, "No Worries," featured the radio hits "Why Should I worry," "Why Can't All God's Children Get Along, and "Special Love," all reaching the Top 5 on the charts. "Why Can't All God's Children Get Along" received at 2010 Dove Award nomination for Song of the Year, with Karen Peck Gooch receiving a Female Vocalist of the Year nomination.
The CD/DVD release "Live At Oak Tree Studio" brought the group their third Grammy nomination, receiving a 2011 nomination for Best Southern Gospel/Country Gospel/Bluegrass Album of the Year.
New River sets a new standard for musical perfection with rich vocal harmony that is shaded with the sophistication of Southern Gospel, country and progressive musical sounds. New River today stands not only as a talented and successful recording artist, but more importantly, effective messengers presenting the Gospel, through Jesus Christ.
stats